Solar Eclipse 2022
When the Moon is between the Sun and Earth, it causes a solar eclipse. This hides the Sun from the Earth. It is called Surya Grahan in Hindi.
The last solar eclipse in India this year will happen on October 24 and 25. It will coincide with the Hindu festival of lights, Diwali. Diwali falls on Kartik Amavasya, and this year the Tithi is on these two days.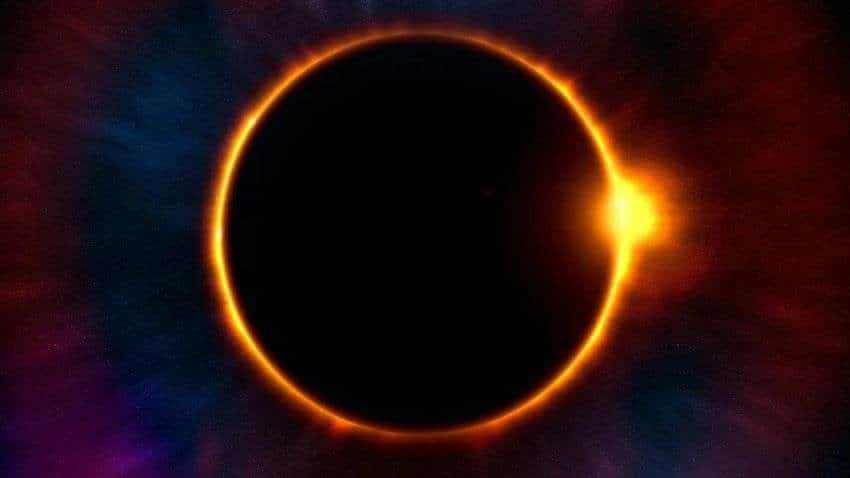 Kartik Amavasya Tithi will be from 05.27 pm on October 24 to 04.18 in the evening on October 25. Indians will celebrate Diwali on October 24th, and on the next day, they will celebrate Govardhan Pooja.
Surya Grahan 2022 is a partial solar eclipse. It will be visible mainly in some parts of Europe, North-East Africa, and West Asia. It is the second and last solar eclipse in 2022.
The solar eclipse in 2022 will last for around an hour.
It will not affect the Diwali celebrations. The first solar eclipse in 2022 was on 30th April.
Partial Solar Eclipse
In a partial solar eclipse, the Moon is between the Sun and the Earth, but with the 3 celestial bodies not aligning in a perfectly straight line. At this time, it looks like the Sun has a dark shadow on a small part of its surface.
Solar Eclipse 2022: Time and Sutak period
The sutak period refers to when the solar eclipse is visible. It will begin at around 16:52 hours in and around the metropolis, the maximum occurring at 17:01 hours. It will not be visible after 17:03 hours at sunset.
This partial solar eclipse will start in Iceland at around 14:29 hours IST. It will be visible at its maximum in Russia at 16:30 hours (IST). The eclipse will get over at around 18:32 hours (IST) over the Arabian sea.
In Siliguri in north Bengal, it will take place between 16:41 and 16:59, and the maximum eclipse will be at around 16:56 hours.
It will begin at around 16:29 hours in New Delhi and end by sunset at 18:09 hours, with the maximum eclipse occurring at 17:42 hours. At this time, only 24.5% of the Sun will be obscured by the Moon.
In Jaisalmer, Rajasthan, it will occur between 16:26 hours and 18:09 hours. The maximum will be at around 17:30 hours. At this time, the Sun's disc will be obscured by 42.5 percent.
The eclipse will commence at 16:49 hours in Mumbai, with the maximum occurring at around 17:42 hours. It will come to an end at 18:09 hours when the Sun seems to sink into the Arabian Sea at sunset.
In central and southern India, the eclipse will again be visible just before sunset. In Nagpur, it will be between 16:49 and 17:42 hours.
In Bengaluru, the Surya Grahan will begin at 17:12 hours. It will reach its maximum at 17:49 hours. It will end at 17:55 hours during sunset.
In Chennai, the eclipse will happen from 17:14 to 17:44 hours.
Who Can See Surya Grahan 2022?
On October 25, people in most parts of India will be able to see the partial solar eclipse. But those living in the eastern metropolis can see it only for a very small period of time. Those in the northern and western regions will be able to have a better view. It will not be visible from northeastern India as the eclipse will happen after sunset in those regions.
The October 25 partial solar eclipse can be seen in most parts of Europe, the Middle East, northern Africa, and parts of Asia.
Solar Eclipses and Astrology
Eclipses are very important in astrology. They take place on New Moon days and tend to be powerful and transformative, as they mark major and unexpected events in life. Such events could be happy or heartbreaking. Eclipses often bring marriages, divorces, promotions, relocation, childbirth, breakdowns, new beginnings, meeting a soulmate, the arrival or death of a pet, etc. The events have karmic nature; they are destined to happen.
Based on where the eclipse falls in your birth chart or for your zodiac sign, there will be a big change in a particular area of your life. Solar eclipses usually bring new beginnings and opportunities, while lunar eclipses bring endings and breakdowns.
An eclipse will push you out of your comfort zone. Eclipses are how the Universe makes sure that we are not stuck in one place for too long.
Astrologers believe that when an eclipse occurs, one should follow certain dos and don'ts.
Dos:
· Chant Mantras of Lord Shiva during a solar eclipse.
· Take a bath after the solar eclipse ends.
· Clean the house after the Surya Grahan ends.
· After the eclipse, sprinkle Gangajal in your house.
· Pregnant women must stay indoors during the eclipse.
Don'ts:
· Do not look at the eclipse with the naked eye.
· Do not sleep during the eclipse.
· Before the solar eclipse, put some basil leaves in water and food.
· Avoid using sharp objects during the eclipse.
· Do not cook or eat any food during an eclipse.